About the Book
The Secret Life of Pronouns examines how and why pronouns and other forgettable words reveal so much about us.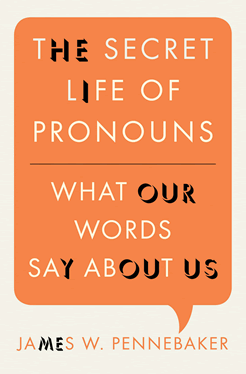 Partly a research journey, the book traces the discovery of the links between function words and social and psychological states. Written for a general audience, the book takes the reader on a remarkable and often unexpected journey into the minds of authors, poets, lyricists, politicians, and everyday people through their use of words.
At the heart of this book is the idea that our words leave indelible fingerprints of personality, our relationships and backgrounds, and even our plans for the future. Once you see the power of pronouns, articles, and other function words, you will better understand:
How Tweets and Facebook posts can tell us about the personality of their authors.
Why lying to others and to ourselves causes us to talk differently.
How it's possible to predict if two people will fall in love by counting the function words the two people use in their first conversation with one another.
When we can predict a person's age, sex, where they live, and what their background is by analyzing their conversations or emails.
Why self-confident leaders rarely use the word "I" and insecure and depressed people do.
How writing about an emotional upheaval using particular linguistic styles can help you get past it.
Why analyzing your own emails, letters, and natural conversations can tell you about yourself and the relationships you cherish most.
Reviews of The Secret Life of Pronouns
Lively and accessible... The under-the-radar sneakiness of function words actually makes them uniquely suited to Pennebakers wide-ranging research goals, which focus on uncovering traces of our social identity and individual psyche in everyday language use... Pennebaker [is] an indefatigable guide to the little words that he boldly calls keys to the soul. --The New York Times Book Review
Pennebaker transforms simple words (pronouns, prepositions, articles) into revealing windows into the emotions and social relations of speakers and writers using them...Though he draws insights from brain-imaging research into the neurological structures that govern linguistic behavior, Pennebaker keeps his focus on the social psychology of language, showing how that psychology plays out at the personal level among friends, neighbors, and lovers, and at the national level among prominent politicians and media commentators. An extraordinary look at ordinary words. --Booklist
Pennebakert's accessible, entertaining account dissects a riotous assortment of language samples, from presidential speeches and Shakespeare to Beatles songs and Lady Gaga tweets, expounding on everything from the self-absorbed language of suicidal poets to the circumlocutions of liars... Pennebakert's take on the unexpected importance of throw-away words is the kind of fun pop linguistics readers devour. --Publishers Weekly
More than a century ago, in The Psychopathology of Everyday Life, Sigmund Freud speculated that we often say -- and mean -- more than we consciously know. Working at the intersection of psychology and linguistics, Pennebaker carries on that fascinating inquiry... The Secret Life of Pronouns is studded with muse-worthy examples of languaget's hidden power. --Dallas Morning News
Convincing and compelling... Essential reading for psychotherapists and readers interested in the connection between language and human behavior, emotion and perception. -- Kirkus
Is it possible for a psychologist to hear just a few words from you and immediately know what makes you tick? Could this psychologist use cutting-edge science to detect your inner desires from subtle patterns in your use of language -- beyond anything you were conscious of saying? The answer to both questions is yes. James Pennebaker is this psychologist and you really ought to read his remarkable book. -- Daniel Wegner, Harvard University, author of The Illusion of Conscious Will
Entertaining and sharply illuminating... Pennebaker shows that the words you use in everyday talk reveal surprising insights into personality, social relationships, status, leadership, sex, and human nature... He is one of the smartest, funniest, and most creative psychologists you will ever meet. -- Dan P. McAdams, Northwestern University, author of George W. Bush and the Redemptive Dream: A Psychological Portrait
Order the book online at: